About Paul Redeker Tent Rentals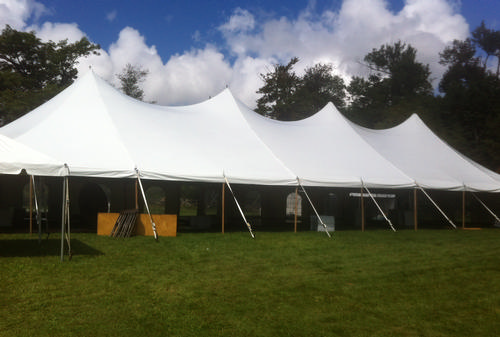 Paul Redeker Rental Company started with one frame tent and a pickup truck in 2003. We added pole tents and tables and chairs in the next few years. Dance floors, dishes, glasses, and high peak tents were added soon after. We are constantly adding new items to our rental inventory to provide you, the customer, with a complete tent rental company.
With our inventory, service and pricing, we've grown into a full-service tent and party rental company. We specialize in wedding tents and backyard country settings. You can also see us at events such as Harris Hill Ski Jump, Greenriver Brew Fest, Wormtown Music Festival, Granby Charter Days, and Strolling of the Heffers in Brattleboro, Vermont. Country weddings are our specialty and New England has many great natural backgrounds for your event. We primarily perform events in Franklin County, Massachusetts, and Hampshire County, Massachusetts, but we routinely travel to Springfield, MA, up to Brattleboro,VT, and beyond.
Paul Redeker and his staff will take the time to make sure your event goes smoothly. Paul is involved in every step of the event from the first phone call or email to the tent setup. This ensures that your special requests and details come to fruition. We try to make the event rentals the easiest part of your event. With 25 years in the rental industry from his early days as a tent crew leader in a Boston rental company to today Paul understands party rentals!
Paul would like to thank all his customers that made 2018 a great year. We are looking forward to a great 2019!. Thank you!
Posted: Wed, Apr 1, 2009 03:39 PM
Updated Mon, Mar 25, 2019 12:00 AM
Paul Redeker Rental Co proudly serves these towns in Franklin County, Massachusetts: Ashfield; Bernardston; Buckland; Charlemont; Colrain; Conway; Deerfield; and South Deerfield; Erving; Gill; Greenfield; Hawley; Heath; Leverett; Leyden; Monroe; Montague, including Lake Pleasant, Millers Falls, Montague Center, Montague City, and Turners Falls; New Salem; Northfield; Orange; Rowe; Shelburne Falls; Shutesbury; Sunderland; Warwick; Wendell; Whately.
Paul Redeker Rental Co serves these towns in Hampshire County, Massachusetts: Amherst Center; Cushman; North Amherst; South Amherst; Belchertown; Chesterfield; Cummington; Easthampton; ; Goshen; Granby; Hadley; Hatfield; HaydenvilleHuntington, Northampton, including Leeds and Florence; Pelham; Plainfield; Prescott; South Hadley; Southampton; Ware; Westhampton; Williamsburg and Haydenville; Worthington, Westfield, West Springfield, Springfield
Paul Redeker Rental Co also serves the Five Colleges of Western Massachusetts: Amherst College, Amherst; Hampshire College, Amherst; Mount Holyoke College, South Hadley; Smith College, Northampton; University of Massachusetts Amherst.
Paul Redeker Rental Co also serves southern Vermont including Brattleboro,vt, Dover,VT, Marlboro,Vt, Guilford,Vt
Paul Redker Rental Co services New Ipswich, NH Jaffrey,Nh, Rindge,NH Greenville,NH Troy,NH Fitzwilliam,NH Richmond,NH WInchester,NH and Hinsdale,NH
Paul Redeker Rental Co also serves Holyoke, Springfield, West Springfield, Ludlow, Agawam, Longmeadow, Westfield,Ma